:: ORIGINAL AND UNIQUE RUSSIAN LACQUER ART BY FEDOSKINO (Федоскино) MASTER TIPYAKOVA ::
Large Festive Oval Lacquer Plaque - ''Troika Race ''
The Troika Theme dates back to the infancy of Russian lacquer art. Since the beginning, painters and poets alike have been fascinated with the concept of freedom and unrestrained exhilaration embodied by a troika ride:

"Stomp out, my dear Troika, discretion and reason : / : Smoke with a fire, flaming, foaming and white! : / : What for? For no reason : / : My heart's drunk with Freedom."

- From a poem by Igor Severyanin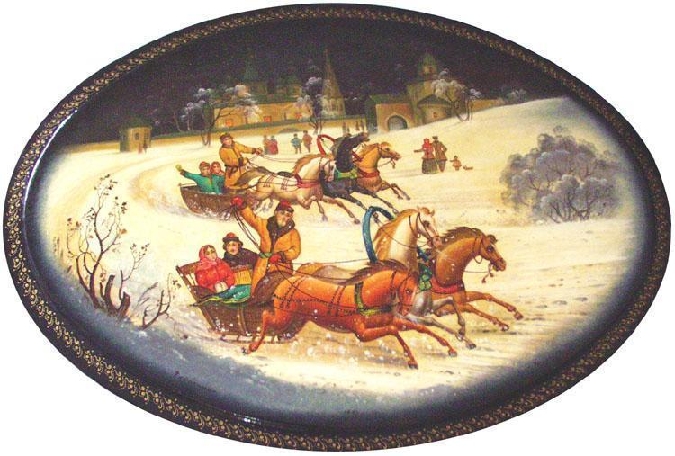 A dynamic and joyful scene on a large oval black Russian Lacquer Plaque, celebrating the famous TROIKA, painted in 1992

- by Tatyana Tipyakova of Fedoskino -

signed and dated, measuring 15.00 x 10.74 x 0.48 inches (38.00 x 27.00 x 1.20 cm).



' Let's have a Race outside the Village on this cold winter night '
In this scene two ambitious drivers are racing their troikas dangerously close to one another while villagers watch and cheer from a safe distance. The two couples in the carriages enjoy the chase on what looks to be a double date, or perhaps a 'double-dare'.


Various shades of white and gray oil paint give the snowy terrain a nighttime moon-glow which perfectly offsets the troikas, painted with bright colors and sparkling metallic accents. More gold-leaf inlays highlight the windows of the village in the background.
A strong sense of movement and depth is created with good compositional structure and the expert blending of pigments.
A beautiful and intricate 1 cm wide gold filigree border frames and enriches this brilliant Russian lacquer painting.

Medium: paper-mache board, black lacquer, aluminum powder, oil paints, metallic paint, lacquer and gold

GALLERY List Price: $600 ---

- Our SALE Price: $450 (plus Shipping)

.

Go to the Inventory of THE RUSSIAN LACQUER BOXES Fine Art CATALOG



" Oh, You Troika, you bird of a troika, who invented you? You could only have been born among a high-spirited people ... The road is like a cloud of smoke under you, the bridges thunder, and everything falls back and is left far behind. The spectator stops dead, struck dumb by the divine miracle: is it not a flash of lighting thrown down by heaven? ... And what mysterious force is hidden in these horses the like of which the world has never seen? " - From Nikolai Gogol's 'Dead Souls'


:: PLEASE CONTACT US BY EMAIL ........................................................................ :

Do you know the Russian folklore about the Symbolism of the Troika?
- The black horse is said to represent Sorrow; No matter how happy one's life, there will always be some measure of sorrow. The chestnut horse symbolizes Love; Love is the power that can overcome sorrow. The white horse represents Peace; It is the symbol of conflict resolution. All three horses and, in the extended sense, all three elements they represent need to be in balance in order to propel life forward.
:: In the troika race depicted on this fine lacquered panel by Tipyakova, the true objective might well be to see which team has the greater balance and thus the faster speed. ::
---